Description
Release Date: 29th April 2022

hololive production has arrived! The talents make their dazzling debuts on the stage of Weiß Schwarz!
Gather your favorite talents and construct your dream decks with the simultaneous release of all seven Trial Deck+!
SIGNED CARDS
Every deck you purchase has a chance to contain a hot stamped autographed card by the following talents:
◆ Yozora Mel
◆ Shirakami Fubuki
◆ Natsuiro Matsuri
◆ Akai Haato
◆ Aki Rosenthal ◆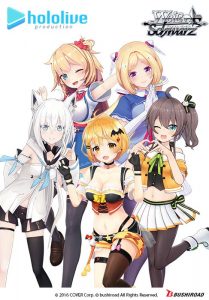 18 types + 18 types (Parallel)
Parallel cards are randomly sealed into decks! Each deck contains one SR card and one RRR or SP card!
50 cards per deck, 6 decks per display
8 displays per carton
The cards in these Trial Deck+ may be used together with cards that have card numbers beginning with 「HOL/」!
Box Details
Pre Built Deck with over 50 cards
Payment & Security
Your payment information is processed securely. We do not store credit card details nor have access to your credit card information.